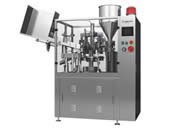 According to customer's filling equipment requirements, FYGFJ-60 automatic tube filling and sealing machine is specially designed based on foreign advanced technology. This machine has compact structure, multi function and easy operation, which can accommodate various medicine, grocery or industrial consumer goods. 30 L funnel, combined with adjustable filling equipment, can successfully pour creamy material into the tube and complete the operation of filling, painting and sealing automatically. Through heat sealing, it can seal metal or plastic with lamination packing.
Detailed Specifications
Productivity: Aluminum tube 3600/h, plastic tube 2400/h
Volume of material barrel: 30 L
Scale of filling: 3-120g
Filling accuracy: ≤+1%
Diameter of tube: Φ12-30 mm
Fitting electric motor: 380V/50 Hz 1.1 kW
Dimension: 2000 mm×750 mm×1800 mm
Weight: 800 kg

Feiyun is a specialized automatic tube filling and sealing machine manufacturer and supplier in China. We offer a wide range of products, including empty medicine capsule filling machine, capsule sorting polisher, medical high purity nitrogen generator and so on.