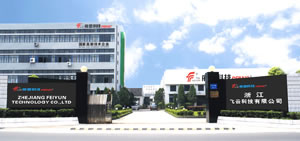 Zhejiang Feiyun Technology, originally known as Ruian Feiyun Machinery Factory, was established in 1986 and is a professional pharmaceutical packing equipment manufacturer and supplier in China. We are the largest manufacturer of hard gelatin capsule filling machines in China. Our products include the capsule filling machine, medical high purity nitrogen generator, blister packing machine, capsule polisher, pharmaceutical coating machine, and the other related products.
All of our prodcuts meet pharmaceutical cGMP standards and have passed the provincial technical appraisal for new products. In fact, three of our machines have been recognized as China National Key Innovation Products and meet the internationally advanced level, thus filling a void in our domestic market. In addition, our fully automatic capsule filling machine was chosen as a Chinese National Key Innovation Product and was honored as a key technological innovation project. Our capsule filling equipment and medical high purity nitrogen generator have received the GMP Certificate for National Pharmaceutical Machinery, and our medical high purity nitrogen generator was awarded the AAA credit level. Our NJP-7200 fully automatic pharmacy capsule machine, a medicine patent awarded by the Chinese government, is the largest machine of its type in the world.
Our company is a leading member of China's Association for Pharmaceutical Equipment. We have also earned such awards as the National High and New Technology Enterprise, Excellent Technology Innovation Enterprise of Zhejiang Province, and Technology Improvement Enterprise, among others. These achievements are due in part to the fact that our technical department is the only technical center authorized by the Wenzhou government for pharmaceutical machinery.
As a professional manufacturer of our blister packing machine, capsule polisher, etc., our company has a forward-thinking management team and a first-class technical team. In addtion to technological innovation, our staff develops, designs, manufactures, and markets high quality products and provide courteous after-sale services for all our clients. We also utilize computer-aided design programs, a local area network management system, and an ISO9001:2000 quality management system. In addition, our company is CE certified, and we have eighteen Intellectual Property Rights, including three invention patents and six utility model patents.
Thus far, our pharmaceutical coating machine, and other pharmaceutical equipment has been exported to more than twenty countries and regions, including the US, Canada, Brazil, Australia, Germany, Russia, South Korea, Indonesia, India, Pakistan, Singapore, Nigeria, Mauritius, Iraq, Iran, Malaysia, Vietnam, India, Bangladesh, Taiwan, Hong Kong, and more. We also have agents located in the US, UAE, Russia, Pakistan, Australia, Brazil, India, Germany, and Bangladesh, so we can quickly service all of our international clients.
With 25 years of experience in manufacturing and sales, our staff strives for innovation, high quality products, considerate customer service, and brand recognition. We look forward to working with you!
Machining center L860

Machining center L860

Coordinate boring machine

Coordinate boring machine