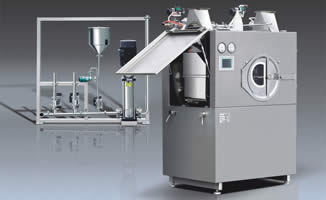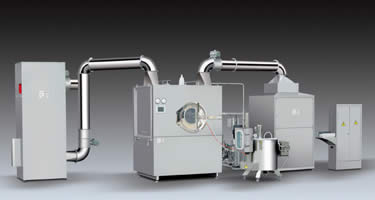 | | |
| --- | --- |
| High Efficiency Film Coating Machine | Whole coating system |

Compared with pharmaceutical coating machine, high efficiency film coating machine has WIP online cleaning system. To be more specific, nozzles are placed in different parts of the main machine for online cleaning. Besides that, independent cleaning liquid booster distribution can be configured, thus pressure of cleaning liquid from every spray header can reach 0.6 Mpa. At the same time, coating machine can be washed effectively. This machine can configure cycle cleaning and drainage systems with different choices. Controlled by PLC, residual water of each nozzle can be dried by compressed air, thus implementing fully automatic washing and drying procedure.
Detailed Specifications
Model
FYB-350D
FYB-150D
FYB-75D
Production capacity
350 kg /run
150 kg /run
75 kg /run
Coating drum speed-adjusting range
2-11 rpm
2-15 rpm
4-19 rpm
Main machine motor power
4.0 kW
2.2 kW
1.1 kW
Hot air temperature-regulating range
Normal temperature ~ 80℃
Hot air filtration accuracy
0.5μm ( 100000 grade )
Hot air machine motor power
2.2 kW
1.1 kW
1.1 kW
Exhaust machine motor power
7.5 kW
5.5 kW
3 kW
Vibration dust-cleaning device motor power
0.37 kW
0.37 kW
0.37 kW
Peristaltic pump motor power
0.18 kW
0.18 kW
0.18 kW
Cleaning pump motor power
4 kW
4 kW
3 kW
Detergent pump motor power
0.20 kW
0.20 kW
0.20 kW
Dimension of main machine L × W × H (mm)
2000×1560
×2300
1570×1260
×1950
1350×1010
×1630
Main machine weight
1700 kg
1100 kg
650 kg
Feiyun is a China-based high efficiency film coating machine manufacturer and supplier. We provide various types of products such as emulsifying mixer, PTP aluminum foil blister packing machine and automatic pharmaceutical capsule filler machine.